Earlier today, Denmark revealed the 8 competing songs in "Dansk Melodi Grand Prix 2021" – the Danish selection for Eurovision 2021. The national selection will be held on Saturday the 6th of March 2021

The hosts of the show will be Martin Brygmann and Tina Müller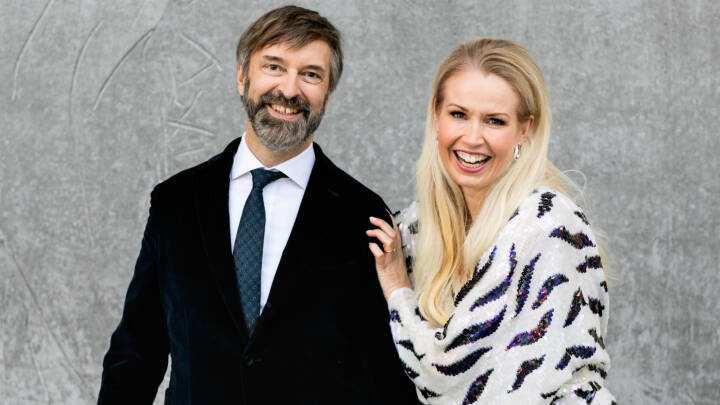 Due to Covid-19 restrictions, the show will be held without live audience.
8 songs will be included in the line-up of "Dansk Melodi Grand Prix 2021".
The Songs and artists have been published as regular in the radio programs 'P3 Buffeten', 'Formiddag på 4'eren' and 'P4 Play' today.
The 8 competing songs can be found in our playlist HERE and let us introduce them to you:


#1.Nanna Olivia-"Hvileløse Hjerter" (Eng: Restless Hearts)
 The song is written by Anna David, Nicolai Levring and Casper Sørensen.

Nanna Olivia is 22 years old singer

About The Song


 The song is about reconciling with a love affair that did not go as one hoped.
In fact, getting over a breakup, even the one that got away, is still haunting the scenery. One person says to himself, "Now I just have to go out and give that gas in the city and do just what suits me," but it just doesn't feel quite right because there are still a lot of emotions in a pinch
#2.Fyr Og Flamme-"Øve Os På Hinanden" (Eng Practice on each other)

The song is written by Laurits Emanuel

The duo consists of musician Laurits Emanuel and singer and actor Jesper Groth
About The Song
The song takes place on a dance floor, where a man and a woman have to try themselves to see which steps work. That session can also be used as a picture of how we, for example, behave when we cure someone else, or how you sometimes have to correct in life a little down the road when things do not go as we had planned.
#3.The Cosmic Twins-"Silver bullet"
The song is written by Gisli Gislason, Rasmus Duelund, August Emil and Lise Cabble, who has won the "Dansk Melody Grand Prix" as a songwriter four times, including with "Only Teardrops", which won the Eurovision Song Contest in 2013.

The Cosmic Twins are twins Chris Andreev and Alec Andreev

About The Song
You get the urge to party, but also a little urge to cry. It's a song that can put one in a good mood, but it also hurts a little inside.

#4.Chief 1 & Thomas Buttenschon-"Hojt over skyerne" (Eng: High above the clouds)
"High above the clouds" is written by the duo themselves together with Nermin Harambasic.

In the summer of 2019, the two musicians released together the national anthem "Everything is good".

Chief 1 (Lars Pedersen)  has previously won the competition three times as a writer:
in 1997 with Kølig Kaj and 'Stemmen i mit liv',
in 2012 with Soluna Samay and 'Should've Known Better'
in 2015 with the group Anti Social Media and "The Way You Are".
About The Song


We want to remind people that they love each other. The song is a friendly reminder that people need to remember those they are close to and how much they really mean to them, says Thomas Buttenschøn, who will make his debut in the Grand Prix this year, about the song.
#5. Jean Michel-"Beautiful"
The song is written by Clara Sofie Fabricius, Johannes Nymark, Andreas Jensen and Jesper Hjersing Sidelmann.

Jean Michel is 33 years old singer

About The Song


I hope to make a difference in people who feel they have a hard time fitting in.
I know many of us tend to doubt ourselves, and with this song I try to establish that all damn are good, exactly as they are. I even know how to feel different. But it does not have to be negative to be different – on the contrary. We must pay tribute to diversity.


#6.Claudia Campagnol – "Abracadabra"
Claudia is a 34 year old well known Jazz singer that was born in Hungary and grew up in Sweden.


The song is written by Louis Jarto, Melanie Wehbe and Emil Adler Lei. While Louis Jarto is making his debut in the Grand Prix context, Emil Adler Lei has won the "Dansk Melodi Grand Prix" for the past two years with "Yes" and "Love is Forever".
Melanie Wehbe also co-wrote "Love is Forever," as well as being behind last year's "Melodifestivalen" winner, "Move" by The Mamas.

About The Song
The song is about the things and people you will always love, even when they are gone. It can be family and friends, but also a dream or passion one has had. Even if you have lost someone or something, you never stop loving. It's a song about eternal love and losing.
#7.Mike Tramp – "Everything is alright"

The song is written by Mike Tramp

Mike Tramp is a 60 years old Rock singer. He won "Dasnk Melodi Grand Prix 1978" with the song "Boom Boom" (as part of the group Mabel).
The singer toured the world as a solo artist and as the lead singer of several bands. IN the 1980's he lived in New York

About The Song


My song is not tailored or written for the Dansk Melodi Grand Prix. It's a song I wrote because I had something on my mind. So when I go on stage at the Dansk Melodi Grand Prix. I go 100 percent on stage like Mike Tramp
#8.Emma Nicoline –"Står lige her" (Eng: Standing right here).
The song is written by Emma Nicoline herself Jeppe Pilgaard, Jacob Jørgensen, Adam Kalwa and Patricia Namakula Mbabazi.
It will be the first TV appearance for 24 years old Emma Nicoline.

About The Song


The song is written for a friend who had problems but could not figure out how to accept an offer of help. Sometimes the problems can become so all-consuming that you become blind to the people around you who want to help. With "Standing right here" I try to say: "Hey, you are good enough as you are. Lower the parades, because I'm standing right here and I want to help you"
On stage, all artists are backed by DR's 15 – man Grand Prix Orchestra under the direction of conductor Peter Düring.

Following the Covid-19 restrictions, a live audience won't be present.
This year, the Danish broadcaster DR invited the public to take part as a virtual audience. People will be able to join the show via Zoom. You can read more details about it and assign it via this link.
At the moment, the results will be determined by the public voting (most likely in 2 rounds of voting).

Denmark will compete in the second half of semi-final 2 at Eurovision 2021
You can find all the relevant information on our Eurovision 2021 homepage: